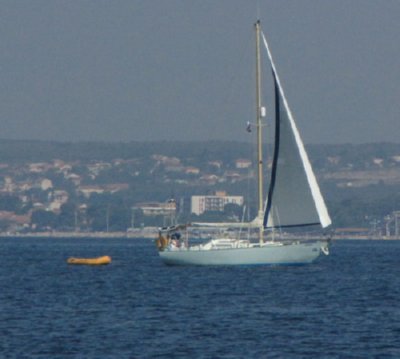 NICHOLSON 32 Mk XI (1980) Arion for sale.
Arion was built in 1980 (the last one to be built and sold) and registered in Gibraltar. 1983, sold to an American couple, Dubrovnik, Croatia; US registered. 2005, Betina, Croatia, bought and British registered (part 1). Fully paid VAT.
Arion is berthed in Marina Betina, Betina, Isle of Murter, Croatia. She is sailed from May to September. In the winter she is in her own cradle under her own boat cover.
Deck Equipment: All the usual including windlass, bimini, spray hood, sun shade, 400 W wind generator, 2 x 20 W solar panels, 3.3 hp mercury outboard, Avon inflatable, 2 anchors, sails include main, genoa, storm jib, cruising chute with boom (unused), mainsail cover, Sestral Major compass, horseshoe life buoy, dan buoy, 4 boat hooks including spring hook for buoy pick-up, feathering propeller. A reconditioned engine (by the manufacturer) Watermota, was installed in 2003 and since then has done approximately 600 hours.
Navigation Equipment: Chart table, ICOM VHF Tx/Rx with Garmin Map 76 (feeding GPS position into VHF), echo sounder, hand held compass, 2 smart battery chargers, binoculars, fog horn.
Cabin Equipment: White/Red led lights in main cabin, heads and fore cabin, led reading lights in main cabin, Car type radio with CD and input for MP3 player, cooker (2 hobs, grill and oven) with 3 gas canisters, fridge, complete set of crockery, cutlery, cooking pans, electric bilge pump (manual/automatic), 2 x fans, sleeping bags (x 4)
Miscellaneous on boat: life jackets, safety harnesses, 2 x bosun's chairs, life raft.
Miscellaneous off boat: Own cradle, boat cover, comprehensive engine spares, spare propeller, miscellaneous spares e.g. turn screws, shackles, etc. jerry can,
Arion has only sailed in the Med. The previous owners (1983 - 2005) sailed her gently usually from May to September, putting her in the cradle over winter and the present owners carry on with this practice. When surveyed in 2005 the surveyor commented it was more like surveying a 5 year old yacht, not a 25. Spares and other equipment are so numerous that they are kept in an on shore store room.
Location: Arion is berthed in Marina Betina, Betina, Isle of Murter, Croatia.
Price: €37,000. Part ownership considered.
Contact: Ben Sorger, email: .