HISTORY OF THE NICHOLSON 32
N. M. Hall, Technical Service Manager, Halmatic Ltd. - in N32 Association Bulletin, 1982 (p.31-32)
---

In 1960 the Hunting Group of Companies acquired Halmaric Ltd a company specialized in reinforced plastics.The principal product of the company was yacht and boat hulls ranging from 8' to 76' in length.

Demand for hull mouldings being spasmodic the Halmatic directorate decided to improve the work flow by diversification into complete vessels. At that time the 'Nicholson 32' hull was being moulded at Halmatic for Camper & Nicholsons. An agreement was reached between the two companies to build a new production sailing yacht.

Camper & Nicholsons were commissioned to design and market the yacht. Halmatic were to tool, mould and complete it: each company making the best use of individual skills. Thus the 'Nicholson 32' was born, the first of an illustrious line of GRP production yachts.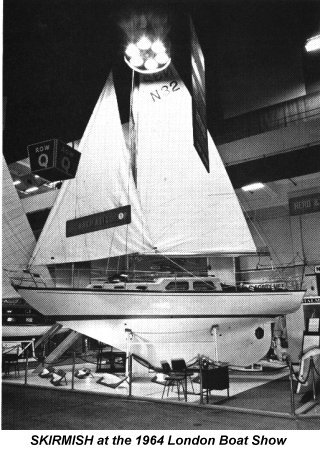 Probably more thought was given to this design by Peter Nicholson than any previous sailing boat. The design parameters were good weatherly sailing performance, moderate size. safe and easy handling, high quality but easily built and, not least, good value.The all GRP concept was the result, hull, deck, superstructure, toitet module and any other components all bonded together including interior ballast, forming a strong homogenous structure

During 1961 the tooling work was accomplished under Dennis Porter at Halmatic in Portsmouth and in the summer of 1962 the prototype 'Part Assembly' was delivered to the fitout yard.

Completion was accomplished by Field Aircraft Services - Marine Division at Wymeswold in Leicestershire. Fields, another Hunting Group Company, possessed engineering shops for wood and metal work with specialist skills in manufacture of wooden aircraft and executive interiors for jets. The Marine Division were already building 36' and 38' sailboats for Alden in America, and the 'Christina' motor yachts were in production there.

Close collaboration between Jerrv Lines at Camper & Nicholson, Southampton, Dennis Porter at Halmatic and Norman Hall at Fields, ensured that each company made their professional contribution in terms of operational, ergonomic and aesthetic values. The yacht had many features which are accepted as standard today. She had adequate head room, was lined throughout, properly ventilated, modern toilet and galley facilities, good insulation, everything that made lift afloat acceptable to the ladies! The men had her strong, weII balanced rig, carefuIly design cockpit and her exceptional sailing ability in all weathers.

During the winter of 1962 the prototype was built and N32/1 Forerunner was commissioned during May 1963.


N32 - MARK BUILD FEATURES
MARK I Boat 1-6 1963
Mahogany interior and exterior joinery. Moulded stanchion sockets which were a headache. Unit furniture.
Price: £4,900 to standard specification included 2 sails, roller reefing, engine, compass, warps, fenders etc.

MARK II Boat 7-10 1964 Price. £4,950
Detail changes from the Mark I preproduction batch of six, e.g. Silver anodised spars from Proctor
No.8,Skirmish, appeared at the London Boat Show.

MARK IIl Boat 11-40 1965 Price: £5,150
Deck joinery teak with no inner rail. Danforth anchor stowage with hatch.
White window trim. 230 modifications.

MARK lV Boat 41-87 1966 Price: £5,475
Modifications160 included engine cockpit hatch, U bolt chainplates, aluminium framed windows in double rebates. Gulliver G acquired by Clare Francis was of this mark, in which she made her single handed Atlantic crossing in1973. Oiled teak furniture, completion transferred to the new Halmatic Factories at Havant, Hampshire

MARK V Boat 88-111 Price. £5,675
Enlarged scuppers, teak cockpit coaming throughout. Battery relocated. Fuel tank stainless steel in the bilge. Engine foundation with drip tray to accept Seawolf, SABB or MD2. Propeller aperture enlarged to suit SABB propeller. N32/100 Century London Showboat.

MARK VI Boat 112-147 1967-68 Price: £5,950
Modifications 120; included rearranged saloon furniture, instead of the pilot berth design

MARK VII Boat 148-190 1969 Price: £6,260
Modifications 49 included Canpa E flush winch. No.169 was the London Showboat.

MARK VIIl Boat 191-236 Price: 1970 £6,800 /1971 £7,150
Major refurbishment and modification programme; restyled windows, CQR anchor stowage, Canpa forehatch, new anti-slip deck print. No. 200 DOUBLE CENTURY was the 1970 Showboat. SAAB GG was standard engine with 2HG and Seapanther optional.

MARK IX
Programmed but this Mark was not built.

MARK X Boat 237-329 Price £7,950
A complete modernisation programme included restyled hull topside with 3" extra freeboard, new deck/superstructure of updates styling, large cockpit with no after deck. Internal changes include resited athwartships chart table and revised double berth. 1972 Showboat brought by His Honour Judge Meurig Evans, former owner of Daimouse no. 23,
Length now 3' overall.

1973
Stemhead roller, cockpit drains, battery box, deck scuppers, sail locker drains, galley, hatch boards all modified detail.
1974
Watermota Seapanther introduced with 12 volt system. Additional lockers portside saloon. Stainless steel grabrails at chart table and toilet.
1976
Following the introduction by Camper & Nicholson of the N31, Halmatic withdrew the N32 selling rights and marketed the yacht themselves.

MARK Xl Boat 338 Price £26,400
Continuing to build.
A major modification programme was implemented in 1977 aimed at cost reduction to offset galloping inflation of world commodity prices. Main changes included introduction of a GRP accommodation module with restyled galley, furniture, a gimballed cooker, a quarter berth on the port side behind the chart table, deletion of the deck anchor stowage and introduction of the double stemhead roller with security for the anchor. Optional wheel steering was introduced with emergency tiller.
Currently (1981) the yacht is still well regarded by discerning sailing people who very naturally have special tastes and requirements. The boat is, therefore, becoming custom built and stock production will probably cease with no.369. Part assemblies and custom boats will continue to be built in order, the classic long keel hull form being presently much in vogue.

Footnote
A Mark VI Boat no. 52 was exported to Rudder Yachts -Sydney- together with a set of moulds. Ten yachts were built under licence in Australia by Phil Rudder. His company ceased trading some years ago.


THE END OF NICHOLSON 32 PRODUCTION IN JUNE 1981
In June 1981, N. M. Hall, Halmatic's Technical Services Manager, wrote to the Secretary:
'It would seem that, after twenty years, the yacht has reached the end of its remarkable production life. A further mark update is not commerciably viable. Having been continuously concerned with the boat since the commission of the design in 1961, I find it rather sad but, after all, in a couple of years, I will be retiring myself. We have available the last Mark Xl which was built for stock, (but has now been sold) at a custom price. Be assured that we shall continue to help owners with advice and spares as long as they remain available.'
Many members will remember "Nobby" Halls' invaluable assistance over the years and will be pleased to hear that he will be around for a year or two yet. He has kindly allowed us to publish his short history of the Nicholson 32.