Specification:
LOA 33ft [10.05m]
(note: Marks I to VIII were 32ft [9,70m])
L.W.L.: 24ft [7.31m]
Beam: 9ft 3in [2.80m]
Draught: 5ft 6in [1.60m]
Displacement: 6.1ton [6,211kg]
Ballast(keel): 3.0ton [3,100kg]
Sail area: 594ft² [55m² ]
Fuel: 16gal [72lit]
Water: 45gal [204lit]
Designed by:
Peter and Charles A. Nicholson 1962/63
Built by:
Moulders: Halmatic Ltd., Havant, Hampshire, P09 lJR.
Marks I to III finished by Field Aircraft Services, Wymeswold and Camper and Nicholson, Gosport.
Marks IV to XI finished by Halmatic and Camper and Nicholson.
Marks I to VIII marketed by Camper and Nicholson.
Marks X and XI marketed by Halmatic.
Useful contacts:
Page last updated:
Nicholson 32 "Brumby"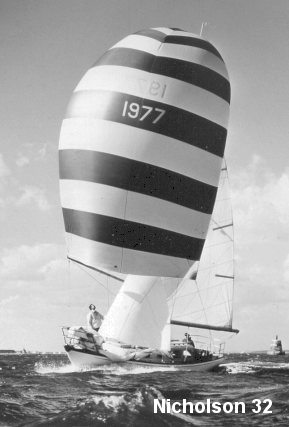 BRUMBY, ex FORTITER, originally CAN CAN - Hull No. 002.
Our archivist, Jeremy Lines, on the foredeck.